Posts Tagged: wildfire
On Oct. 2, the prescribed-fire workshop will be held at Colfax Veterans Memorial Hall, 22 Sunset Circle, Colfax.
On Oct. 4, the workshop will be held at Ebbett's Pass Fire District, 1037 Blagen Road, Arnold.
The one-day workshop is designed for landowners and land managers who want to learn skills in prescribed-fire planning and implementation. In addition to reducing wildfire fuels, prescribed fire is used to control invasive plant species and for ecological restoration.
Each workshop will feature similar content including presentations on prescribed fire, including local fire history and current fire research, prescribed fire permitting and legal considerations, fire weather forecasting and online tools, air quality and smoke management, fire terms and fire behavior, burn plan development, burn unit preparation and fire tools and equipment. Instructors will also discuss models for accomplishing prescribed fire on private lands, including prescribed burn associations and CAL FIRE's Vegetation Management Program.
During the last week of October, participants in each workshop will be invited by UC Cooperative Extension to a field trip to look at lands actively managed with prescribed fire and to participate in a live training burn (weather permitting) at UC Berkeley's Blodgett Research Forest in Georgetown in El Dorado County.
Each workshop costs $25 for lunch and educational materials and registration by Sept. 27 is required to participate. To register, please visit http://ucanr.edu/2018rxfireworkshops.
For more information, contact Susie Kocher, UC Cooperative Extension advisor, at (530) 542-2571 or sdkocher@ucanr.edu.
Fire scientist Kate Wilkin was on the job just a few weeks when ferocious winds whipped up the Northern California firestorm of 2017. The national media focused on Napa and Sonoma counties, where the deadly Tubbs fire became the most destructive wildfire in California history, while devastating fires also broke out in Butte, Nevada, Yuba and other counties.
It was crunch time for Wilkin, who stepped in as the new forestry, fire science and natural resources advisor for UC Cooperative Extension in Sutter, Yuba, Nevada and Butte counties that fall. Four lives and 200 homes were lost in her new work community. Wilkin will now host workshops to help families and businesses recover from the firestorm and rebuild in a way that is more resilient to fire. Fire resiliency will start at her own home.
The Wilkin-Johnston home is at the top of a rise dotted with cedars, ponderosa pines and black oaks. The dying plants in the foreground are Himalayan blackberry bushes that were treated with glyphosate (RoundUp) to remove them. The invasive weed forms a continuous understory that climbs into tree canopies and can carry fire with it. Wilkin removed one blackberry stem from a cedar tree that was more than 30 feet long.
From the Bay Area to the small town of Grass Valley
Wilkin and her husband Josiah Johnston moved into their first home, a ranch-style rambler atop a hill in Grass Valley, on Sept. 15, three days before Wilkin reported to work in the Sutter-Yuba County UC Cooperative Extension office in Yuba City.
The couple moved from a small apartment in Berkeley, where Wilkin was conducting research as a post-doc in the lab of UC Agriculture and Natural Resources researcher and UC Berkeley fire science professor Scott Stephens. The move from a hyper-urban Bay Area city to a small hamlet in the hills wasn't too much of shock to their systems. Johnston was raised on a farm with chickens and goats. Wilkin grew up in the rural Appalachia community of Abingdon, Va. After completing her bachelor's degree at the College of William and Mary, an internship with the Nature Conservancy in Kissimmee, Fla., introduced Wilkin to fire science.
"In the Disney Wilderness Preserve, the landscape would burn then flood every year," Wilkin said. "I became fascinated with how these disturbances catalyzed diversity."
What better place to continue a fire education than California?
Wilkin enrolled at CalPoly, San Luis Obispo, earning a master's degree in biology. She spent the next three years in Yosemite National Park, working with a team of scientists to understand the impacts of packhorse grazing in mountain meadows.
"We found that the current policies led to meadow degradation," Wilkin said. Yosemite then changed its policy to reduce the amount of horse grazing on these tender, sensitive mountain resources.
In 2011, Wilkin started work on her doctorate at UC Berkeley, where she studied the relationship between fire, forest diversity and water. Wilkin signed up for the pilot Graduate Students in Extension program at Berkeley, launched in 2014 to train and recruit graduate students for careers in research and outreach.
"The … internship gave me an amazing set of professional skills that I could practice, including media relations, public speaking to different audiences, and conference organizing and facilitating," Wilkin told Science Magazine for an article about the innovative program. "Many of my colleagues and I see environmental problems and want to do applied research because we want to help find solutions."
The railing and both sides of the siding on the deck were covered in wooden lattice by the previous homeowners. Wilkin and Johnston found a squirrel cache between the layers of lattice, with acorns, pinecones, needles and other dry plant debris. "It was the perfect place to start a fire," Wilkin said.
Beginning at home
With full knowledge of the dangers of living in fire-prone areas, Wilkin and Johnston purchased a home close to the outdoor amenities they adore – hiking, backpacking and skiing.
"Tahoe is just an hour away," Wilkin said. "I love the view from the house and the wooded setting. But we live in an area CalFire has designated as very high fire danger."
As a fire scientist, Wilkin was well equipped to make changes to the home and landscape to minimize the risk.
"We moved in during peak fire season," Wilkin said. "We didn't hang artwork. My priority was to make the home and deck more fire resistant. We put in one-eighth-inch mesh over the vents, caulked around doors and windows, blew leaves off the roof and deck, removed lattice wrapping the deck and cleaned the gutters. Then we created defensible space starting close to the house and working our way outward."
The couple labored about 200 hours and spent about $800 in the first six weeks buying and renting tools, including a chipper, saw and a truck to haul away tinder-dry lattice, foliage and pine needles. With the most critical fireproofing completed, the couple is now tallying the work that should be done to further enhance the fire safety of their home.
"We probably need another $6,000 to $7,000 of work," Wilkin said.
When the North Winds blow
Wilkin recalled the terrifying time about a month after moving into their new home when howling winds whipped around the house and fires were breaking out across Northern California.
"The North Winds are haunting," she said. "I hadn't felt wind like that since I lived in Florida and experienced hurricanes."
Wilkin and Johnston were fortunate. The closest fire to their home was the McCourtney Fire, which burned 76 acres in Grass Valley. The wildfire stayed two miles away.
A thick hedge of camellias borders the side of the home. Although ideally homes should have a five-foot zone immediately surrounding the house clear of burnable objects and plants, she didn't have the heart to pull them all out when they were full of flower buds, but removed them after they bloomed.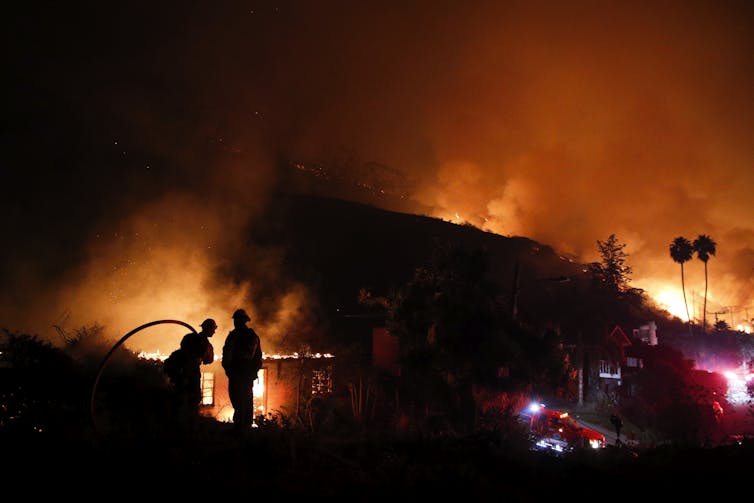 Faith Kearns, University of California, Division of Agriculture and Natural Resources
In the midst of the many wildfire emergencies that have faced California this year, it can often seem that the way houses burn, or don't, is random.
The thing is, though, it's not. Firefighters and researchers alike have a pretty solid understanding of why some houses are more vulnerable to wildfire than others. The real challenge ultimately lies in whether those with the power to act on that knowledge will do so.
Available science
It is commonly thought that it takes direct flame to spread a fire, but this isn't always the case. Small embers are instead often the culprits that begin house fires during wildfires. These small bits of burning debris can be lofted long distances by the wind. They can then end up igniting landscaping materials like combustible mulch, or enter homes through vulnerable spots – gutters teeming with debris, unscreened attic vents, open or broken windows, old roofs with missing shingles. Once there, the embers smolder and can ultimately catch a house on fire.
In California, iconic winds work to create ideal ember-driven ignition conditions. The Santa Ana winds in Southern California – known as the Diablo winds in northern part of the state – have generally followed fairly predictable seasonal and spatial patterns. "Red flag" fire warnings are often issued on dry days when the winds will be particularly fierce.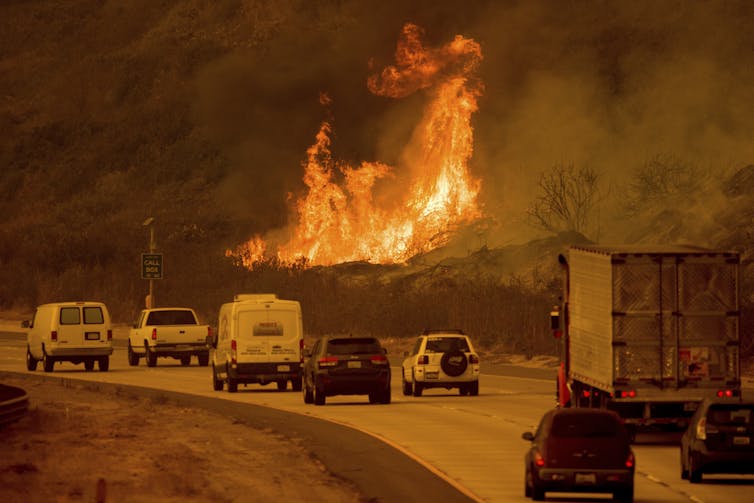 While humans can't really control as much as we'd like to believe when it comes to disasters, we do have the ability to control where and how we build. For decades, most wildfire education and enforcement campaigns have focused on creating so-called defensible space where landscaping vegetation is carefully selected and located on the property, as well as routinely maintained.
This is not enough, however. Officials in California – as in other fire-prone states – need to help homeowners, local governments and builders to understand there are also specific, science-based steps that can be taken to make structures themselves less vulnerable to fire.
Researchers recommend what is known as a "coupled approach" to home and building survival. This means the development and maintenance of an effective defensible space, as well as the careful selection of construction materials and correct installation to ensure that, for example, there are not gaps in siding or roofing that would allow embers to penetrate.
Decision-makers also need to be willing to take on the most taboo topic of them all: recognizing that there are places houses simply shouldn't be built, or rebuilt, at all.
(Not) too urban to burn
Earlier this year, California had the first strong winter rains after many years of drought. Now, after a typically dry summer, the state is experiencing a dry start to the rainy season, particularly in the south. At the same time, people have continued to build into places known to burn regularly. The result of this confluence of events has been fires deeply affecting many thousands of people up and down the state.
California residents are largely aware that not all fire is bad, and that many of our ecosystems thrive on regular fire. It's not something that we should, or ever could, hope to fully contain. Our only chance is learning, really and truly and finally learning, to live with it.
In that vein, the state must look long and hard at some of the steps that have been the hardest to take – not building in places that are particularly fire-prone and matching building codes with a modern understanding of wildfire risk – if there is to be any hope of alleviating the human suffering these fires cause.
We are being invited to free ourselves from the notion that wildfire destruction is random and unpredictable, and that therefore there is nothing to be done about it. As the fire season in California gets longer, the winds worsen and wildfires move into areas once deemed too urbanized to burn, maybe the knowledge about what makes houses burn can finally be put to good use.
Faith Kearns, Academic Coordinator, California Institute for Water Resources, University of California, Division of Agriculture and Natural Resources
This article was originally published on The Conversation. Read the original article.

/h2>/h2>/span>/span>
It's Deja Vu all over again
- Yogi Berra
Once again I'm asked to provide some perspective on yet another catastrophic situation affecting the North Coast. In 2015, it was the Valley Fire. In 2016, it was the Clayton Fire. This year there are so many fires I'm having difficulty recalling their names...14 at last count.
The cause for these 2017 conflagrations will be apparent once the elements of the fires are assessed. Tornadic winds hitting 50 mph Sunday, October 8, will most likely have started most if not all. Winds of this intensity can ignite fires by impacting electrical infrastructure by breaking lines and causing transformers to explode. The cause of the fires will come out in time. Thick stands of vegetation, the result of mid-20th century land management practices, years of fire suppression, homes built in rural locations in steep terrain, old legacy roads too small to accommodate modern fire-fighting equipment, and exurban development without the necessary resources to address fire prevention. All this leads to almost impossible conditions to arrest a fire being pushed by wind.
I would argue there is no better fire-fighting force in the world than those found in California. What these men and women do is nothing short of extraordinary. But they are faced with an impossible task in the absence of an equally focused program of fire prevention.
What have I learned from Lake County as a result of the Valley and Clayton fires?
The Lake County fires have provided insights that can help with the recovery and reconstruction of the most recent events. Specifically, resources must be secured to assist landowners and communities in better incorporating fire resilience into local rural and suburban planning and projects, to prepare for the eventuality of another fire by creating and maintaining conditions that allow the fire to be controlled before getting out of hand. Admittedly, the recent fires were wind-driven events that became uncontrollable. However, these fires are the exception to the rule. There are hundreds of fires a year in California that are quickly controlled and extinguished. Fire resiliency must incorporate plans and projects that can address less catastrophic conditions, in the hopes of arresting a fire before it becomes a conflagration.
Fire-fighting equipment may need to be scaled to accommodate old, narrow rural roads to improve fire response.
Other aspects for communities to consider when addressing fire resiliency may include fire-fighting equipment scaled to accommodate old, rural roads, resources to retrofit old roads to accommodate evacuees and first responders, and rural lands with poor or non-existent internet service need to re-establish fire sirens to alert residents of impending danger. Local statutes need to establish and enforce vegetation management standards on absentee parcels. And, finally, a sustained dialogue addressing fire resiliency must be incorporated into all
land-use planning discussions
to help landowners recognize and implement actions to help reduce the risk of catastrophic fire.
None of this will be easy or inexpensive. But neither is fighting hundreds of thousand acres of wildland fires every year.
Admittedly, the weather conditions responsible for these fires may negate the best plans and efforts. But again, those conditions are the exception to the rule.
For every acre burned this year there are ten more, in the same condition, that didn't, providing next year's opportunity for a conflagration. The road forward to address California's wildland fire threat is long, and full of twists and turns. But as with all long journeys, each begins with the first step.
Greg Giusti is a UC Cooperative Extension advisor emeritus specializing in forests and wildlands ecology.
Preventing embers from getting inside may save homes
Photos and video of the Northern California communities that have been hit by wildfires this week show buildings reduced to ash. How could so many homes and businesses burn so quickly in Wine Country fires? Many houses that burned to the ground in the Northern California fires likely burned from the inside out, says Yana Valachovic, UC Cooperative Extension forest advisor for Humboldt and Del Norte counties.
Red hot embers carried on the wind can enter the attic via the venting. "In the case of the wind-driven fires on October 8, these fires created ember storms that blasted little coals into everything in their pathway," Valachovic said. These embers also create small spot fires near the home that fuel new sources of embers.
Weather played a large role in these fires and generated a fire storm of embers that ignited grass, shrubs, trees and anything in its path. "While the landscape can be the fuse, the homes really can be the most burnable part of the landscape," Valachovic said. "These embers likely lodged in the small spaces and openings of homes and buildings. A common location is for the embers to enter via attic venting or HVAC systems distributing little fires into the buildings.
"Embers also landed on receptive leaves, outside furniture, and other flammable materials outside the buildings that created fires adjacent to the buildings. Once enough buildings were engulfed in fire, the radiant heat of each building fire led to exposures on the neighboring buildings, creating a house-to-house burn environment."
Residents can reduce the risk of embers setting their house on fire by removing dry plants around the structure.
"These fires remind us that everyone in California could help the fire situation by managing the vegetation, leaves in the gutters and decks, newspaper piles, brooms and other flammable sources near to their houses now before they get the evacuation call," Valachovic said. "If you are likely to have to evacuate soon, temporarily covering or sealing up the vents with metal tape or plywood can help harden your home to an ember storm."
Steve Quarles, UC Cooperative Extension advisor emeritus, who spent his career studying fire behavior on building materials and around homes, created an online Homeowner's Wildfire Mitigation Guide at http://ucanr.edu/sites/Wildfire. Quarles, who now does research for the Insurance Institute for Business and Home Safety, demonstrates how embers can ignite and quickly engulf a house in flames in a video https://www.youtube.com/watch?v=IvbNOPSYyss. After the 3-minute mark, video shows embers drifting up and flying through a screened vent into the house, where they could ignite combustible materials in the attic resulting in fire starting on the inside of the home.
"If you have time to prepare your home, use the wildfire last-minute check list at http://disastersafety.org/wp-content/uploads/2016/07/IBHS-Wildfire-Last-Minute-Checklist.pdf," Valachovic said.
Valachovic has co-authored publications in home survival in wildfire prone areas http://anrcatalog.ucanr.edu/pdf/8393.pdf and how landscape plants near homes can create more vulnerability to wildfire http://anrcatalog.ucanr.edu/pdf/8228.pdf.
Once these fires are extinguished, a more detailed analysis will be possible.
"Past wildfire events have shown that this is the common way homes in the wildland urban interface (WUI) burn, and this scenario was likely translated to the urban environment," she said.